Time went on and in September 2013 it was agreed that my ankle was not getting any better and the next course of action would be an ankle arthrodesis.
My ankle would be screwed together and fixed, like my opposing knee. I was told that in the worst case scenario if it didn't work it could mean amputation.
I agreed to the operation, thinking that an amputation wouldn't be the outcome, I can't be that unlucky surely?
The operation was performed in September 2013. Normally this then requires six weeks in plaster, however due to my underlying conditions, I was put in plaster for three months, taking things nice and slow, being extra careful. The first 6 weeks of this was non weight bearing.
At the end of December 2013 we had arranged a family Christmas holiday to Florida, so my goal was to be out of plaster and fixed by then. A week before flying, The cast was taken off, and I was allowed to walk on it. The ankle started hurting at this time, but I put it down to lack of use, and I didn't want to raise concerns to jeopardise our family holiday.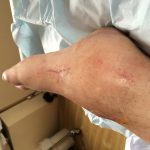 I wore anti DVT stockings during the flight, but was in a lot of pain during the flight, it felt like I had broken my ankle. When we got to Florida, my wife and I struggled to get the DVT stocking off as it was stretched passed it's designed capacity due to ankle swelling.
However I was determined it was not going to spoil the holiday for my wife, my son or I, and continued on. I purchased a couple of ankle supports and off the shelf painkillers, the ankle supports didn't really help as my ankle was so swollen, they wouldn't fit, and the painkillers did very little. Anyhow, we had a great family holiday.
When we got back, I went back to the specialist who looked at my ankle, during the holiday I had contracted an infection in my big toe, and the concern was it had tracked to the bone and screws. I didn't believe this, as the pain started while on the outbound flight.
More X-rays!